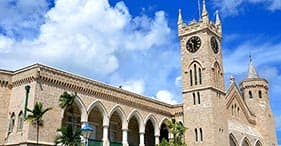 Coast to Coast Scenic Drive
Discover the island's most scenic sights, such as the National Heroes Square and the Parliament buildings in Bridgetown. As you drive across the island, you'll pass through peaceful villages, eventually reaching St. John's Church, where you can enjoy the beautiful views.
Starting from
ADULT $69.00
CHILD $43.00
Approx. Duration
3 1/2 hrs
This tour is great for families.