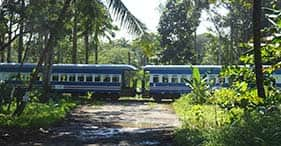 Pacific Train, Bus & Boat Adventure
This combination excursion gives you the opportunity to ride a historical train that has been in service for more than 50 years and participate on a scenic ride through rural countryside and tropical fields.
Starting from
ADULT $99.00
CHILD $69.00
Approx. Duration
4 3/4 hrs
This tour accommodates guests that are full-time wheelchair users. Guests can remain in their wheelchair for the duration of the Excursion. Please contact the Shore Excursion staff upon boarding to ensure that your needs can be accommodated.