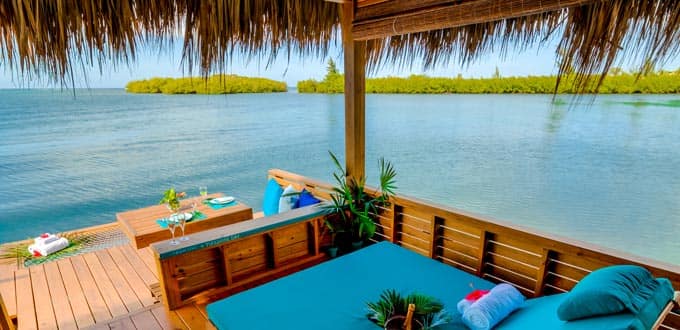 Turquoise Bay All Inclusive Over-the-Water Bungalow
Roatán (Islas de la Bahía), Honduras
Duración 5 1/2 hs.
Relax at an exclusive waterfront resort where you will enjoy the serenity of your own over-the-water bungalow with a day bed for two and all sorts of other premium amenities.
After departing from the pier, you will enjoy a wonderfully scenic drive toward the east end of Roatan island, where you will find the Turquoise Bay Resort. Directly on the ocean with the lush Bonacca Ridge as a backdrop, the resort couldn't be more picture perfect.
Upon arriving, you will receive a welcome cocktail and an enlightening overview of the property so you can maximize your time here. You will then meander over to your own thatched-roof bungalow that rises just above the water.
Furnished with a comfortable teak day bed for two, the bungalow will be your home base at the resort. It features a suspended patio with a swim-up platform, a shaded and a sunny area, and an ice box with an ice-cold bottle of champagne just waiting for you to pop the cork.
If you need a towel, drinks or snacks, simply use the pager. Butler service is included to ensure that your time at Turquoise Bay will be completely carefree. Other amenities include a reserved beach if you want to stretch out on the sand and a spectacular three-course lunch.
Feel free to spend hours enjoying the serenity of your over-the-water bungalow or explore other areas of the resort. The choice is entirely yours.
Need to Know:
Note: Price is for 1 or 2 guests. Only one person needs to book the bungalow for a party of 2. The bungalows will take a 3rd & 4th guest for an extra fee, payable onboard.
Wheelchair guests will be required to take a few steps in/out of the bus and at the bungalow. Guests who go ashore do so with the understanding that they will be mixing with members of the general public.
Adultos desde: $549.00 USD
Niños desde: $549.00 USD
Comida

Accesibilidad limitada