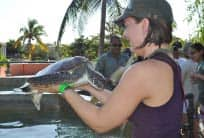 Discover Cayman
George Town, Gran Caimán
Duración 2 1/2 hs.
Two of Grand Cayman's most popular activities, visiting the Turtle Farm and literally going to Hell, are included on this cruise tour. Sit back, relax and enjoy the highlights of Grand Cayman.
Your tour begins in George Town - this prosperous capital ranks as the fifth-largest financial center in the world - with a guided drive along Seven Mile Beach, briefly stopping along the way to capture once-in-a-lifetime snapshots. Continue on to quaint local neighborhoods on your way to the Gingerbread House, followed by a stop at Hell, a small tourist village known for its unusual inferno rock formations.
After a 'hell' of an experience, you'll visit the Turtle Farm, home of the world-famous green sea turtle. On the way back to the pier, you'll make a brief stop at one of Cayman's rum cake outlets.
Adultos desde: $99.00 USD
Niños desde: $69.00 USD
Recomendado para la familia