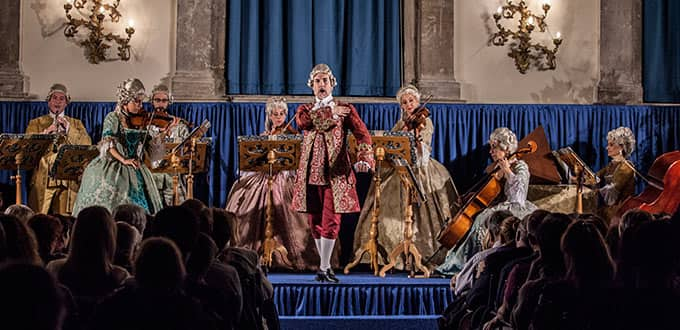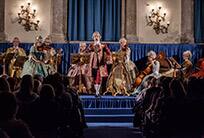 A Baroque Night in Venice
Venecia, Italia
Duración 3.5 horas
Hear an esteemed orchestra in period costumes perform some of the world's most recognized Baroque music in a concert hall that dates to the late 16th century.
After departing from the pier, you will soon arrive in Rialto, the geographical heart of Venice. Being the oldest area of town, Rialto is full of historical, culturally important buildings such as Scuola Grande de San Teodoro, which was built in 1580 as a school.
Now a concert hall, it's an extraordinary setting for a musical performance such as the one that awaits you. After taking a seat in the first-floor salon, be sure to notice the beautiful paintings from the 17th- and 18th centuries that adorn the walls.
The orchestra, Musici Veneziani, is an accomplished group that will be elaborately dressed in Baroque costumes and jewelry. They will play some of the most moving pieces of the Baroque period, including Antonio Vivaldi's classic "The Four Seasons." It is said that King Louis XV was so enamored of the "spring" concerti that he insisted that it be performed at his whim, which was often.
Public concerts such as this were rare during the Baroque period that ended in the mid-18th century. These compositions were usually performed in church or in the home of a wealthy patron.
Following the concert, you will return to the pier.
Need to Know:
Note:
Even though this tour has very limited walking (to and from the motor boat only), tour is not available to scooters or wheelchair guests including collapsible wheelchair as the tour is operating in the small motor-boats. This tour has a limited capacity; therefore, it is recommended that guests pre-book this tour as early as possible.
This tour must be purchased no later than 7 days prior to the operating date. Cancellations made within 7 days or less are subject to a 100% cancellation penalty. Programs falling under the minimum number of required participants are subject to cancellation.
Adultos desde: $169.00 USD
Niños desde: $149.00 USD