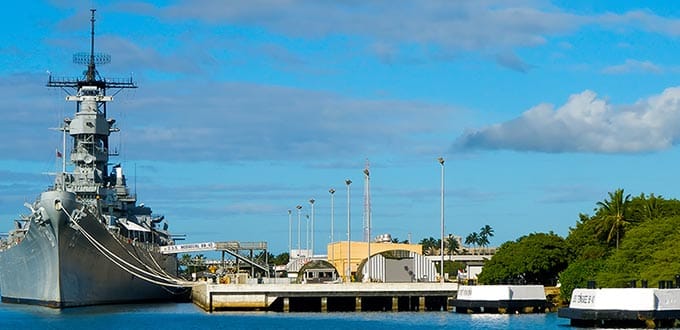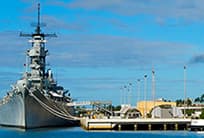 Pearl Harbor & Honolulu City (Airport Drop Off)
Honolulu, Oahu
Duración 6 hs.
Explore Honolulu's highlights – from Pearl Harbor and the National Memorial Cemetery of the Pacific to Hawaii's first Christian church, and Iolani Palace and Washington Place, both former residences of the Hawaiian monarchy.
Pearl Harbor is one of Hawaii's best-known landmarks and the scene of the devastating aerial attack by Japan that drove the U.S. into WWII. The Pearl Harbor Visitor's center exhibit galleries bring visitors closer to the sights and sounds of the events leading up to the attack on Oahu and its aftermath. These galleries display personal memorabilia, dramatic photographs, artifacts of the battle, and other exhibits.
In central Honolulu stand face to face with the larger-than-life statue of King Kamehameha I, the leader who united the Hawaiian Islands into one royal kingdom. Just across the street you'll see the Iolani Palace, residence of Hawaii's last two monarchs. European in design, it boasted Hawaii's first electric lights, flush toilets and internal phone system. Also nearby is Kawaiahao Church, Hawaii's first Christian house of worship, built of coral slabs from the offshore reefs.
At the heart of the downtown historic district you will notice the elegant Washington Place, now a museum, and once home to Liliuokalani, Hawaii's last queen. Drive through the National Memorial Cemetery of the Pacific, in the extinct volcanic crater known as the Punchbowl. It is the final resting place of some 53,000 veterans who lost their lives in 20th century wars, including those who died during the attack on Pearl Harbor. Enjoy panoramic city views on your drive to the airport.
Need to Know:
Note: It is recommended to book this excursion AFTER you have your flight information in order to avoid cancellation. Tour begins approximate 1 hour after ships' arrival with a duration of about 6 hours. Suggested flight departure should begin no sooner than 3 hours after tour completion. This tour does not include the Arizona Memorial. Available for guests with flights after 4:00 pm. Guests are responsible for ensuring their debarkation tours are compatible with their flight departure times. Due to heightened security, absolutely no purses, backpacks, fanny packs or camera cases are allowed at Pearl Harbor. Cameras are permitted, but not camera cases. Snacks will be available for purchase. Debark shore excursions will only be available to book 50 days prior to sailing. To avoid air ticketing conflicts, air must be ticketed before the debarkation shore excursion can be booked. This applies to independent air and air booked through NCL.
Adultos desde: $115.00 USD
Niños desde: $95.00 USD
Accesibilidad

Desembarque