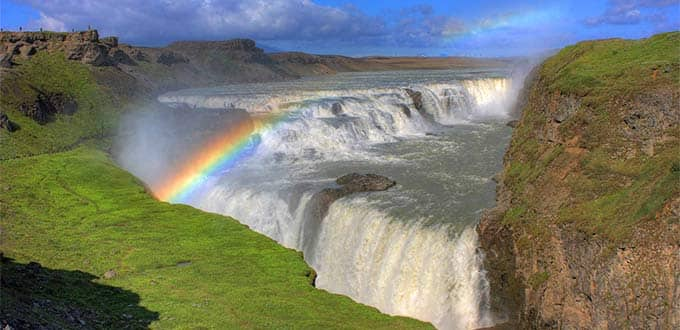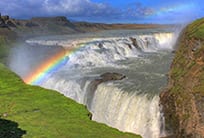 The Golden Circle
Reikiavik, Islandia
Duración 8 3/4 hs.
Venture into the beautiful Thingvellir national park - a UNESCO World Heritage Site only about 30 miles from Reykjavik, and ranking at the top of Iceland's attractions. This national park offers outstanding sceneries of mountains surrounding a vast lava plain covered in green moss and wild flowers. Head to the Geyser area where you'll see hissing springs, bubbling pools and other geothermal phenomena. Lunch will be served nearby, amongst these scenic surroundings.
Another highlight of your day is the Gullfoss waterfall. The 'Golden Waterfall' is the most famous of the country's many waterfalls. Here, the river Hvita drops 96 feet in two falls, creating an awesome spectacle. Being located on an old magma chamber, Hveragerdi is notorious not only for its abundance of hot springs, which heat the community's greenhouse industry, but also for its earthquakes.
When we return to Reykjavík we'll make one last stop at Perlan, the Pearl before returning to the pier. Perlan has a viewing deck that offers great panoramic views over Reykjavik, perfect for taking photos or just relaxing and enjoying the view. Lastly, enjoy a scenic drive of the city on your way back to your ship.
Need to Know:
Note: Most of the sights of this tour can be seen from the coach. We recommend that you wear warm clothing in layers and sturdy shoes ashore as the weather in Iceland can change quite quickly. Tour time varies between 7-8 hours based on time in port. May run from 7-8 hrs due to daylight restrictions.
Adultos desde: $229.00 USD
Niños desde: $149.00 USD
Comida
Idiomas disponibles: