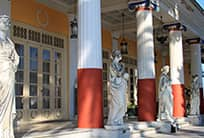 Best of Corfu
Corfú, Grecia
Duración 5 hs.
Discover the best of Corfu on this tour. You'll tour the island, visit a stunning palace and enjoy a traditional lunch with live entertainment at a local taverna. Drive through Corfu and arrive at Mon Repos Palace built by order of Empress Elizabeth of Austria and completed in 1891. The empress had fallen in love with the natural beauty of the island during her 1861 visit and also developed a great appreciation for Greek history and mythology.
After a guided visit of the grounds and palace, you'll continue to the traditional village of Kinopiastes. Enjoy a rich and traditional lunch at the famous Tripas Tavern accompanied by live Greek music and dancers. Board your coach for the drive back to the Old Town of Corfu where you'll have the opportunity to either be dropped off, to walk through the narrow lanes and browse on your own, or return with the coach directly to your ship.
Need to Know:
Note: During summers months expect crowded venues, long lines and high temperatures. We recommend that you that you drink a lot of water, wear sun protection and dress in layers. Guests who are planning to visit religious sites during free time or on tour, please dress appropriately; no bare shoulders or shorts are allowed. Guests who go ashore do so with the understanding that they will be mixing with members of the general public.
Adultos desde: $159.00 USD
Niños desde: $99.00 USD
Comida