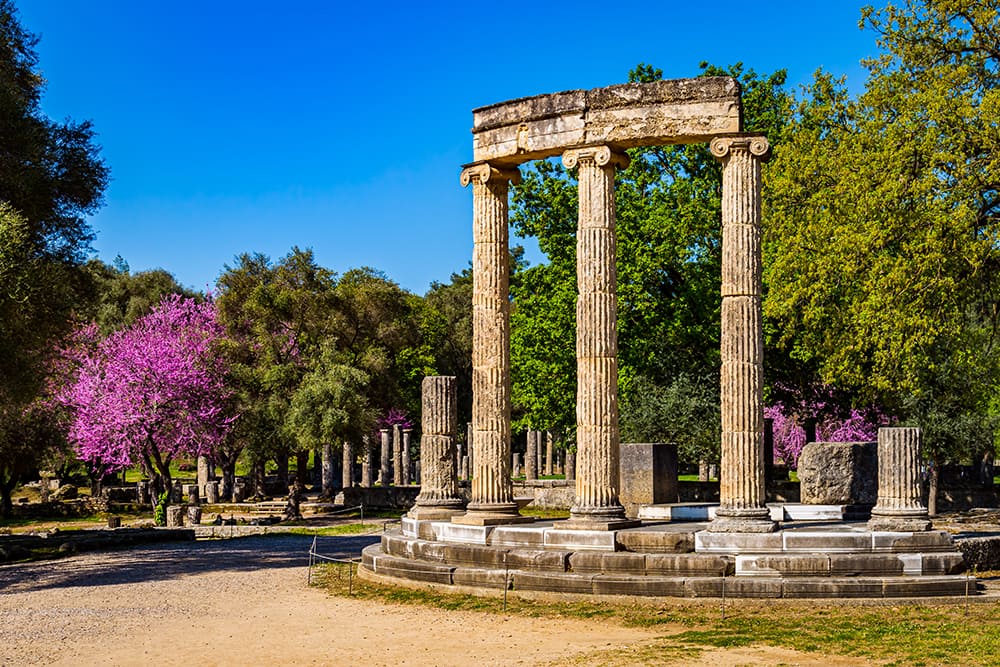 According to ancient Greek mythology that dates back nearly 3,000 years, mighty gods and goddesses once ruled over all the world from a heavenly sanctuary above Mount Olympus. The ancient Greeks built temples and shrines to honor these powerful, mythical beings. Today, the ruins of these sacred sites remain scattered across the country. One of the most important, the site of the first Olympics, is waiting for you to discover on a cruise to Katakolon, Greece. When you take a Crucero por las islas griegas with Norwegian, you get the chance to walk in the ancient footsteps of legendary Greek heroes.
Dreaming about escaping reality and getting away from the hustle and bustle? Now is a great time to start planning your crucero a Grecia. There's never been a better time to plan the Vacaciones En Crucero of a lifetime. Keep reading to learn more about Norwegian's cruises to Katakolon and the historial significance of this unique port.
Ready to start planning? Explore all Norwegiancruceros a Katákolo.
Why Cruise to Katakolon?
Maybe you've cruised the Mediterranean in the past, sailing to popular ports of call, like Atenas, Santorini, y Mikonos, and now you're looking for something fresh and new. Perhaps, you're a history buff who loves diving deep into the folklore of mysterious ancient worlds. Either way, a cruise to Katakolon is the perfect choice for you. A quaint seaside town located on the Ionian Sea, Katakolon is a small port community with a population of just 600 people.
Despite its tiny size, Katakolon is one of the busiest ports in all of Greece owing to its famous neighbor, Ancient Olympia. Aside from a handful of tourist shops, restaurants, and taverns along the waterfront, you'll find horse-drawn carriage rides and an adorable tourist train that offers tours of the area. You can spend a few hours eating, drinking, and people-watching in Katakolon, or you can branch out beyond the borders of the wee village to explore the real treasure that awaits just a 30-minute drive from the port.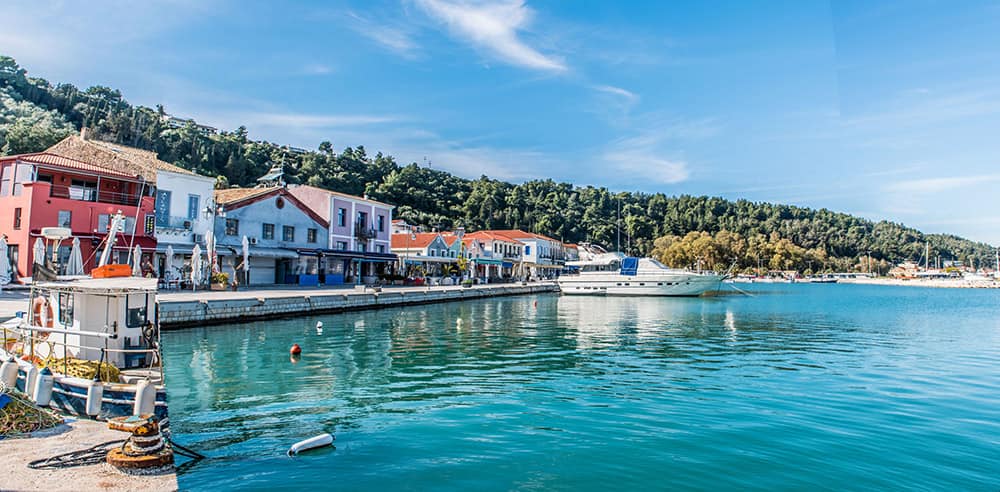 Things To Do in Katakolon
As the gateway to Olympia, Katakolon gives cruisers a unique glimpse into the past. But that's not all this stunning village has to offer. From beautiful beaches with their warm, enticing waters to wineries producing the nectar of the gods, you'll find something for everyone on your port visit to Katakolon. What's more, the Norwegian cruise team curates a selection of top excursiones en tierra in port, so all you need to do is choose the one that whets your unique interests, and the cruise staff takes care of the rest.
Read ahead for some spectacular shore excursion tours and highlights in Katakolon for your Greek Isles cruise vacation.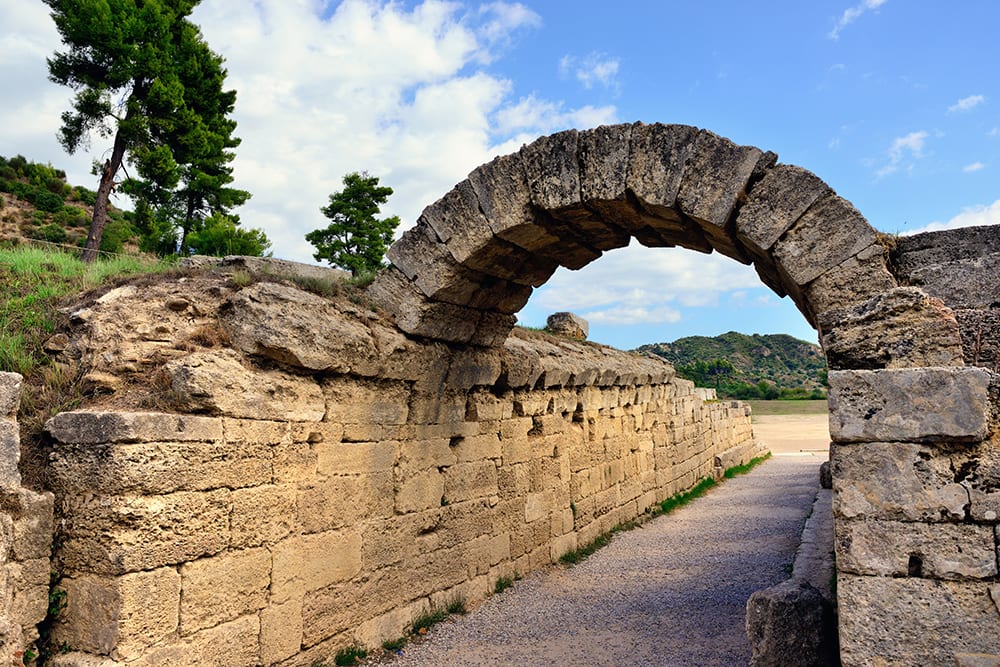 Explore the Best of Olympia
To begin your unforgettable journey, you'll make your way 25 miles east of Katakolon to Ancient Olympia. Built in about 600 B.C.E. as a place to worship Zeus, the most important Greek god, Ancient Olympia went on to become the birthplace of the Olympic Games. Every four years, ancient Greeks flocked to the site to take part in the festival of Zeus, which included the prestigious sporting event. At one time, the site was home to the massive Statue of Zeus, one of the Seven Wonders of the Ancient World. Eventually, Roman conquerors and natural disasters destroyed the site.
Today, all that remains are the ruins of the once-spectacular complex that was named a UNESCO World Heritage Site in 1989. During this comprehensive six-hour tour, you'll learn all about what the site looked like and how it was used in its glory days. After, you'll make a visit to the Archeological Museum of Olympia to see some of the magnificent artifacts found in the area. Your final stop includes a visit to Magna Grecia Farm for a taste of ouzo and homemade snacks. This Greece cruise excursion really does bring you the best of Olympia in every possible way!
Agriturismo Magna Grecia - Experiencia en una granja griega
When it comes to traditional Greek experiences, nothing is more authentic than a visit to a working olive farm set amidst picturesque rural villages. On this half-day tour, learn all about the process of making olive oil, from touring the olive mill areas to harvesting the olives and extracting the oil.
Sample the many varieties of Greek olive oil, and discover the connection between olive oil and Ancient Olympia. On this immersive tour, you also get the chance to sip on some of the finest wines in the region, feast on a few of the local delicacies, and enjoy a brief performance of traditional songs and dances. It's a fun-filled way to spend your time in this charming port.
With its pristine beaches, azure waters, balmy climate, and ancient treasures, Greece is one of the top cruise destinations in the world. If you're looking to get off the beaten cruise path and visit someplace with loads of rich history, a cruise to Katakolon is your chance to discover hidden treasures of the past at the site of Ancient Olympia.
Para obtener más información sobre Cruceros a Grecia and all of Norwegian's cruise vacations, be sure to sign up for emails. You'll get the latest ofertas de cruceros, itineraries, and special offers delivered right to your inbox.
¿A dónde viajarás la próxima vez? ¡Déjanos tu comentario!