Not surprisingly, the Pacífico Sur is a dream destination for many travelers, and Norwegian Cruise Line can get you there in style. On a Norwegian South Pacific sailing, you can experience some of the world's most exotic paradises as you swim in crystal clear turquoise waters, dive with a rainbow of marine life, and explore lush forests. After a day of experiencing dreamy destinations, you can just sit back and lounge onboard your cruise ship and enjoy some of the most iconic views in the world from your balcony or public deck areas.
Here's a look at everything you need to know to book your dream South Pacific island cruise on Norwegian.
South Pacific Island Itineraries
Choosing which South Pacific cruise is right for you could be as simple as deciding whether to include Australia or Hawaii. If you are thinking about the South Pacific and Hawaii, choose from several 13- and 14-day sailings like:
14-Day Hawaii and French Polynesia Cruise from Honolulu: This 13-day journey starts in Honolulu and ends in Papeete, Tahiti, and visits ports like, Kahului (Maui), Hilo (Hawaii), Nawiliwili (Kaua'i) and Nuku Hiva, Moorea, and Bora Bora in French Polynesia.
Hawái y la Polinesia Francesa desde Papeete, 13 días: Depart from Papeete and visit Bora Bora, Moorea and Nuku Hiva before visiting Hawaiian ports like Hilo, Nawiliwili, Kahului, and disembarking in Honolulu.
Hawái y la Polinesia Francesa desde Papeete, 14 días: This cruise visits Bora Bora, Raiatea, Moorea, and Nuku Hiva in French Polynesia as well as Hilo and Kona (Hawaii), Nawiliwili (Kaua'i) and disembarks in Honolulu. Another option is a a 14-day cruise that visits Bora Bora, Moorea and Nuku Hiva before heading to Hawaiian ports like Nawiliwili, Kona, Hilo, and Lahaina. Other cruises stop at varying ports in Hawaii.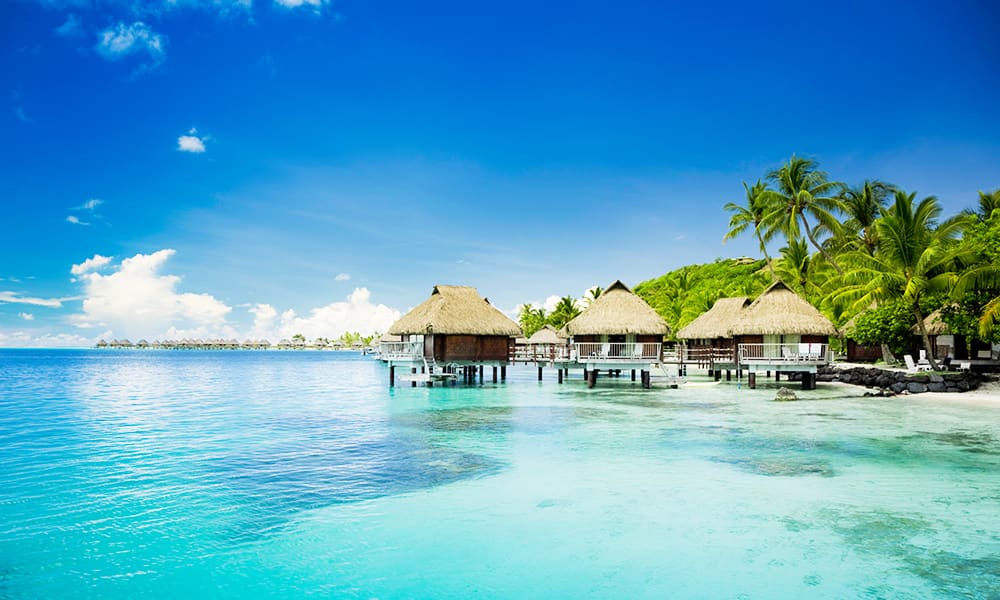 If you are leaning toward Australia and French Polynesia, you have a couple of cruises to choose from:
19-Day Australia and French Polynesia from Sydney: After departing Sydney, you'll visit Isle of Pines, Noumea, and Lifou in New Caledonia, Port Vila (Vanuatu), Lautoka and Dravuni (Fiji), Apia and Pago Pago (American Samoa), and Bora Bora, Raiatea, Moorea, and disembark in Papeete in Polinesia Francesa.
21-Day Australia and French Polynesia from Sydney: Depart from Sydney and visit Brisbane before cruising for Noumea, Isle of Pines and Lifou (New Caledonia), Mystery Island (Vanuatu), Lautoka and Dravuni (Fiji), Apia and Pago Pago (American Samoa), and then French Polynesian ports like Bora Bora, Raiatea, and Moorea before disembarking in Papeete.
Norwegian Jewel
All South Pacific cruises are on Norwegian Jewel, the namesake of Norwegian's Jewel Class ships. Norwegian Jewel was beautifully refurbished in 2018, and has a capacity of 2,376 passengers. The extensive refurbishment resulted in multiple new dining venues and nightlife options, as well as the addition of Haven Deluxe Owner's Suites.
There are 15 bars and lounges, including the brand-new Pit Stop, a 1950's American bar. There's no shortage of dining options and plenty of onboard activities to keep you busy.
French Polynesia Ports
Depending on what cruise you pick, there are four main ports Norwegian visits, not including Papeete which is where your cruise will either start or end. Ports in your French Polynesia cruise can include:
Moorea: The island of Moorea has eight beautiful mountain peaks, and its tranquil bays make it perfect for snorkeling. Relax on the beach, take an island bus tour, go hiking, or even skydive.
Bora Bora: Bora Bora has been nicknamed the "Jewel of the South Seas," and is one of the most iconic islands in French Polynesia. You can snorkel, go diving, explore Mount Pahia, or relax on the beaches of Bora Bora. Bora Bora is also a popular spot for shopping, especially for art and jewelry.
Nuku Hiva: Nuku Hiva is a volcanic island where you can visit interesting historical sites, open-air gathering spots called tohua, and sacred tiki statues. There are beautiful valleys, dramatic waterfalls, and lush forest trails.
Raiatea: Raiatea's name means "faraway heaven," and the island is home to French Polynesia's largest marae, which is an outdoor temple. It is one of the most sacred islands in the region, and many people believe that Raiatea was the center of the great Polynesian migration.
Papeete: Cruises either embark or disembark in Papeete, which is on the big island of Tahití. You can spend a few days before or after your cruise to explore Papeete's charms and history as well. The island has numerous high-end resorts, world-class surfing, museums, waterfalls, and more. It's been named the "Queen of the Pacific" for good reason. You can take an island tour to learn about Tahitian black pearls, visit the Gauguin museum to learn about Paul Gauguin's influence in Tahiti, or get lost in the island's natural beauty.
Still deciding on what Pacífico Sur island cruise is best for you? In the meantime, be sure to sign up with your e-mail to keep up to date on the latest Norwegian cruise deals.