To say that 2020 was a difficult year is an understatement. We've all deeply felt the ways in which the past year asked us to adapt, change, and grow. And while we are still collectively looking ahead and eagerly preparing for that day soon when we can all sail together again, we're honored to be able to take a look back at some of the top awards and recognitions we received for the previous year, all a testament to our incredible land-based and shipboard teams, and, of course, with the support of our loyal guests. We can't wait to cruise with you in 2021.
Ready to start planning? Explore all cruise vacations with Norwegian.
"Despite this historical year, where we've missed connecting with our guests and delivering to them the experiences they have come to know and love of us, it brings us great pride to be recognized by these esteemed organizations," said Norwegian Cruise Line President and CEO Harry Sommer. "These honors remind us, inspire us and propel us forward in our continued effort to elevate the cruise experience, allowing us to better serve our guests in 2021 and beyond. I share these accomplishments with our nearly 30,000 team members worldwide, whom without this would not be possible."
Some of our top awards for 2020 include:
The Caribbean's Leading Cruise Line, 8 Years in a Row
With nearly 70 unique tropical itineraries to choose from currently, Norwegian is thrilled to continue holding the title of "Caribbean's Leading Cruise Line" (named by World Travel Awards) for the eighth consecutive year. With a wide variety of ships like Norwegian Encore, Norwegian Bliss, and Norwegian Sky sailing from ports like Miami, New Orleans, Orlando and New York, our Cruceros por el Caribe are bound to have a vacation to paradise with your name on it.
Europe's Leading Cruise Line, 13 Years in a Row
From the warmth of the Greek Isles to the wonder of the Old World, Norwegian is once again taking you there as "Europe's Leading Cruise Line" for 13 years running (World Travel Awards). Sail with us from 16 departure ports, including Venice, Barcelona, and Athens on board 10 noteworthy ships, like Norwegian Epic, Norwegian Breakaway, or Norwegian Escape, one of our most awarded ships in the fleet. With over 180 unique cruise itineraries to Norte de Europa y el Mediterráneo, Norwegian makes it easy to explore the world from the comfort of your balcony.
Best New Ship: Norwegian Encore
Norwegian Encore, our newest innovative ship, received award-winning praise following her November 2019 debut, including "Best New Ship" or "Best Ocean Ship" by Porthole Cruise Magazine, TravelAge West and Travel Weekly, as well as being included on Condé Nast Traveler's coveted "2020 Hot List." Our 1,100-foot Norwegian Encore Speedway, the largest and most thrilling at sea, also earned the ship Travel Agent Central's "Coolest Cruise Award." If you've yet to experience Norwegian Encore's thrilling onboard activities, award-winning entertainment, and unparalleled dining offerings, you'll want to explore her cruises in 2021 and 2022 to The Caribbean, Riviera Mexicana, Canal de Panamá y Alaska, to name a few.
For over 54 years, Norwegian has been known for breaking boundaries in the cruise industry. In addition to being named "The Caribbean's Leading Cruise Line" 8 years in a row, "Europe's Leading Cruise Line" 13 years in a row, and bringing home the title of "Best New Ship" for Norwegian Encore, we are thrilled to have received more than 20 top honors across multiple categories from leading industry organizations and publications in such an unprecedented year.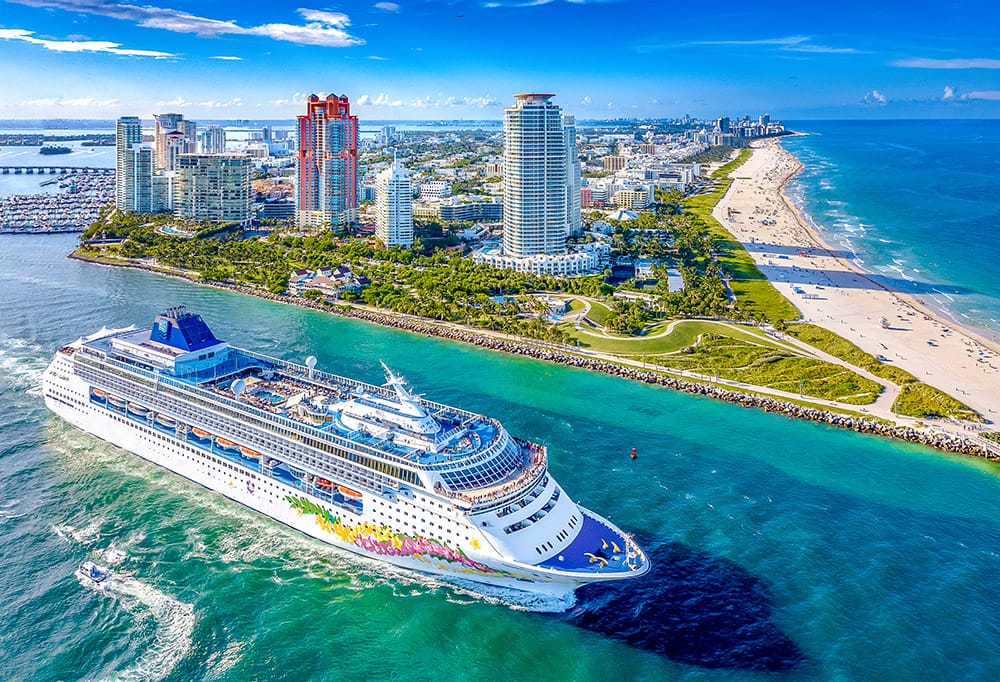 Don't miss your chance to cruise with the best. Sign up for emails to receive Norwegian's ofertas de cruceros right to your inbox. Where are you headed in 2021? Tell us in the comments below!